17 Multicolored Or Variegated Flowers You Can Grow
Do you want to put flowers in your garden or on your balcony and you are not sure of the color? No problem: opt for multi-colored flowers or variegated flowers. They will give your garden an infinite range of colors.
I have gathered the 17 multicolored flowers that I like the most and many of them already have their care card on the Blog (maybe when you read this they are all loaded 🤗.
To find the flower that best suits your needs and desires, whether you want a fragrant one or not, to plant in the ground or in a pot, if you are by the sea or in the field, you can use the Plant Finder.
How the flowers united us in confinement
Are you very busy but still want flowers? Opt for plants that require little maintenance. Any plant you get close to doesn't survive? Adopt plants that don't need water or light!
---

Multicolored or variegated flowers

---
1. Adenium x 'Costa Picotee'
Where To Buy Flowers And Plants In Madrid
Two-tone flowers with pure white petals edged with bright pink.
2. Akebia 'Silver Bells'
Bicolor flowers, pale mauve and silvery white, vanilla aroma. - Large leaves.
10 Tall Flowers To Give Privacy With Color Or Make Bouquets
---
3. Ancolie 'Dragon Fly'
Multicolored flowers that appear in May and June. - The variety is about 40 cm tall.
---
4. Cleome 'Sparkler'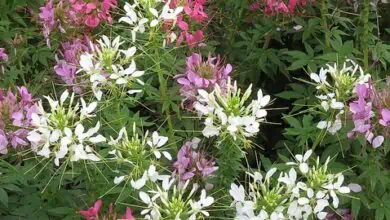 When To Send Flowers To Spain It Is ...
Flowers in a mix of colors, from white to deep, solid pink to two-tone pink and purple blooms.
Average height of about 1.20 m.
This mix of colors is interesting when you have large flower beds to decorate.
What Flowers to Give According to the Occasion
---
5. Calibrachoa
"Lemon Slice" (pictured)
Lemon yellow bicolored flowers with broad white stripes that appear to be a uniform yellow and softer when viewed from a distance.
A more recent variety, it gives the impression of two flowers in one, depending on whether one is zooming in or out.
'Neo Coral & Red Eye'
Small tricolor flowers with coral-pink petals at the edges and a deeper orange-pink near the heart, which is itself yellow.
Neo is a new variant of the Mini Famous®, offering other trios of flower colors, which are currently very popular.
---
6. Coreopsis tinctoria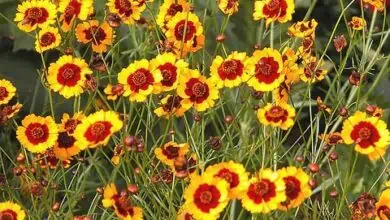 From June to October, multi-colored flowers mixed in shades of golden yellow and mahogany.
Height: 0.60 to 1 m. Light, flexible and thin stems, well branched, from a rosette of narrow and serrated leaves.
Very fast growth. Ideal for rural massifs.
---
7. Tricolor sparaxis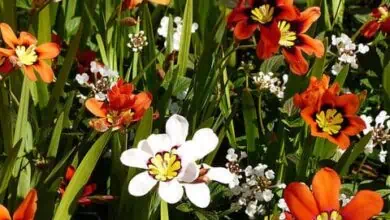 Flowers of 3 colors, orange, red or yellow, with a yellow heart surrounded by black, blooms in many shades and color combinations, in March-April in temperate climates and in summer elsewhere.
Leaves lanceolate, erect, fan-shaped. Flowering height: 0.40 m.
Ideal to be planted in a border, a bed, a climbing wall or in a pot. It naturalizes easily. Excellent for bouquets.
---
8. Gladiolus
'Mon amour' (pictured): It blooms from July to September. 1 m high. Large multi-colored (tricolor) flowers.
'Halloween': It blooms from July to September. 0.80 m high. Large bicolor flowers. SEE FILE
9. Godetia
"Azalea Flower": 0.40 m high. - Double flowers in a variety of colors, often variegated.
"Satin Lavender" (in the photo): 0.30 to 0.50 m in height. - Two-color flowers that mix pink and fuchsia.
---
---
10. Phaseolus coccineus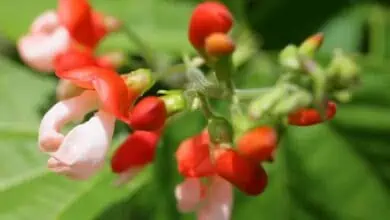 'Saint george': Abundant bicolor flowering (white and red) that is as attractive as the number of large pods, 25-30 cm long. Brown seeds marbled with black.
'Painted Lady': 2 m tall plants with vivid colors: first with their red and white flowers and then with the brown speckled chocolate grains that camouflage the 20 cm long pods. - This traditional variety originally from England has been known since 1596. It is still called "York and Lancaster", it owes its name to Princess Elizabeth I. The latter had a reputation for appreciating makeup too much, a true "painted lady".
---
11. Miniature Rose

'Palatino' (in the photo): Variable on the same plant, with all shades between white and orange. - 0.40 m high. - Pleasant citrus aroma. Very blooming from July to autumn. Excellent pot life. It is not very thorny.
'Pearly Edge': Pinky yellow at button opening, then pearlescent salmon before changing to soft pink. - 0.45 m high. - Ideal for a flowerpot. Flowers in clusters that bend the branches.
---
12. Crocus sieberi
Flowers from February to March. - 0.07 to 0.10 m in height - Multicolored (tricolor) flowers in purple, white and yellow for the 'Tricolor' variety. SEE FILE
13. Viola tricolor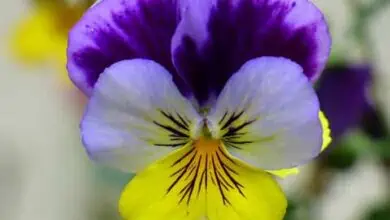 Small tricolor flowers. - Grows in sandy soil. Edible flower with a bitter taste. SEE FILE
---
14. Lathyrus odoratus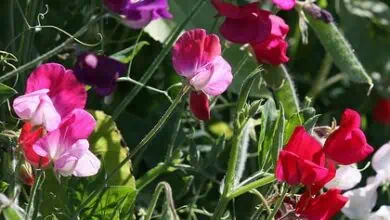 It blooms from May to September. Large, papilionaceous, fragrant multi-colored flowers of pink, white, red, blue or bicolor color, gathered in groups of 4 to 8 at the tips of the stems.
Height: 0.30 to 2.50 m. Long, fickle stems that wrap around supports (climbers) or stiff, branching stems (shrubs and dwarfs). The leaves are bluish-green.
There are many varieties of different colors, climbing, shrub or dwarf, for beds, borders or pots. Some are only slightly fragrant.
---
15. Salpigllosis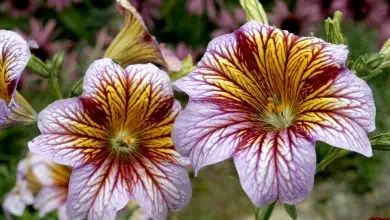 'Boléro' (photo): A mix of warm tones ranging from coppery yellow or gold to mahogany red, streaked, similar to feathers. - Height: 0.70 to 0.90 m. - The F2 hybrids (2nd generation) have a great variety of specimens.
Series 'Royal': Flowers of various colors, often bicolor, always streaked. - Height: 0.40 m. Dense, compact, linear, narrow, cut leaves. - Suitable for growing in pots.
---
---
16. Nemesia
'Strumosa': It reaches between 20 and 40 cm in height for a diameter of 20 cm.
It blooms in spring and sometimes also in autumn. Shorter flowering time.
Very colorful flowers: white, pink, yellow, orange, red. Variety "Prince of orange"Has orange flowers with purple veins, the"Nebula blanc"Has white flowers with an orange center, the"Blue birdHas light blue flowers with a white center. Quite scented.
A very common species. It is grown as an annual or biennial.
Nemesia denticulata: Rounded and compact design. It reaches between 30 and 50 cm in height. Bright green leaves.
Two-tone color. Sphere-shaped blooms. The "Confetti" variety has different shades of pink, the "Violet Confetti" has purple and mauve tones.
The species is very suitable for use in pots and containers.
---
17. Bellis perenis
'Speed ​​Star': Double bicolor flowers, yellow and white or carmine red. Winter flowering from October to February. Height 18 cm. - Compact plant, good uniformity.
'Habanera' (photo): Very large double flowers with elegant sharp petals, often bicolor, white with bright red tips. Up to 6 cm in diameter and 15 cm in height. From April to June. SEE FILE
---