What Flowers to Give According to the Occasion
Know what flowers to give according to the occasion
To know What flowers to give according to the occasion It helps us to generate the correct feeling in those who receive our gift. The same flowers are not applied for a couple, as for a birth, just as the same flowers are not used if we want to ask for forgiveness or convey a message of love or passion or tenderness.
Today there are many stores that allow you to send online flowers delivery Colvin for example, it allows you to find countless flower arrangements for every occasion or event. In general, all these stores take great care of the freshness of the flowers and plants and they arrive in perfect condition at their destination.
What flowers to give to your partner
There are many stores around the world that they make it easier for you to choose which flowers to give according to the occasion, But so that you do not go blind when it comes to giving flowers, I invite you to read this complete note where you will find many useful information to make the correct bouquet.
Why does receiving flowers make us happy?
Did you know that there are studies that confirm that receiving flowers makes us happy? In 2005 at Rutgers University, an experiment was carried out to evaluate the happiness produced when receiving flowers, the result was that 100% felt happier.
To be more exact, a sample of 147 people was taken, some were given flowers, other fruits and other candles and their reaction was analyzed through what they call "The Duchenne smile", Which is neither more nor less than what we call a" smile from ear to ear. "
Those who received flowers smiled 100%, those who received fruits smiled only 90% and those who received candles, only 70%.
In another study carried out in 2006 at Harvard University, an investigation was carried out on the relationship between women and flowers and the effect that they caused on them, the study was carried out in 55 participants and the results were that not only they felt happy to receive them, but living with the flowers (at home or at the office) they felt less stressed and more energetic and happy than on other occasions ...
Plant and Combine Biannual Flowers
Conclusion, giving someone flowers will make them happier 🙂
But let's go deeper into what flowers to give according to the occasion, for this, we will first see the meaning of each flower:
What does Each Flower mean?

---
Fresh and Natural Looking Freeze Dried Flowers
Acacia: Elegance
Azalea: Temperance
Creek: Beauty
Snowdrop: Hope
Calendula: Restlessness
Carnation Red: Sighing heart
Carnation White: Innocence
Yellow Carnation: Disdain
White chrysanthemum: Sincerity
Yellow Chrysanthemum: Scorned love
Red Chrysanthemum: I love you
Dahlia: Instability
Gardenia: Secret love
Gerbera: Youth
Sunflower: Worship
Gladiolus: Live genius, love date.
Blue iris: Pleasant News
White Iris: Hope
Hydrangea: Caprice
White Jasmine: Kindness and attachment
Yellow hyacinth: Jealousy
Blue hyacinth: Constancy
Laurel: Glory and ambition

Lavender: Constancy
Lily: Greetings
Lilac: Modesty
Lily of the valley: Return of Happiness
Daisy flower: Do you love me?
Magnolia: Love of nature
Mistletoe: Overcoming difficulties
Petunia: You relieve me
Orchid: Beauty
Rosemary: I remember
Peony: Truthfulness
pink: Love
Canine rose: Joy
Yellow Rose: Affection
White and red rose: Mixed feelings
White Rose: Worthy of you
Red rose: Beauty
Christmas rose: Relieves anxiety
Yellow Tulip: Love and happiness
Red Tulip: Love declaration
Veronica: Fidelity
blue violet: Trust and Sleeplessness
Violet: Modesty
What flowers to give according to the occasion
Knowing what flowers to give according to the occasion can be a challenge. What flowers, what color ... Many are the factors that can be taken into account when making our choice. Knowing the symbolism we mentioned above is important, but the following infographic can help you make your flower bouquet even better.
Flowers for Valentine's Day

---
When choosing a Valentine flower bouquets It is par excellence the occasion for it, however, it depends a lot on the relationship you have with that person.
Meaning and symbolism of passion flowers
Anniversary Flowers:

---
Just as there is a perfect gift for each anniversary, there is also a correct flower according to the years that are being fulfilled. Knowing what flowers to give according to the occasion, in this case, the wedding of paper, bronze, gold, will make your gift more effective and pleasant.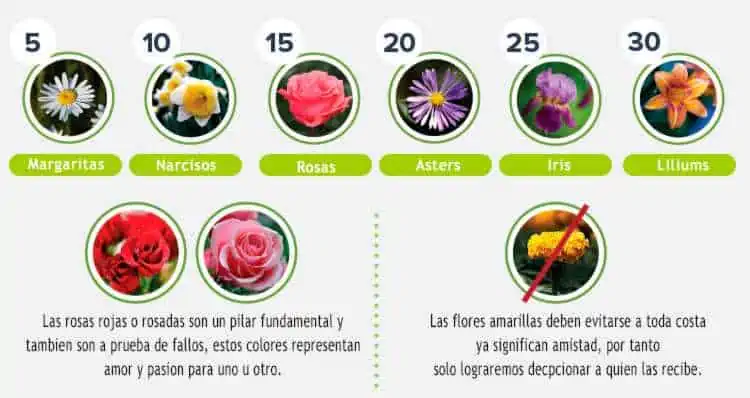 Mimosa flowers: meaning and symbolism
Birthday Flowers
---
In addition to its meanings of friendship and enjoyment, each month also has its own appropriate flower. So when we talk about birthdays, it is not only important to know what flowers to give according to the occasion, but it is a good idea, to take into account the month in question.
Dating flowers

---
Although today in many places the good habit of giving flowers on the first date can be considered obsolete, having this detail with someone you have dated a couple of times can be a good gesture.

Funeral Flowers

---
Usually, funeral flower arrangements are sent directly to the home of the person who has suffered the loss. While size can vary, large, formal arrangements are best suited.
Flowers for someone who is sick

---
Depending on whether the sick person is in the hospital or at home, the choice of which flowers to give according to the occasion is different.
Flowers for Christmas and New Years

---
Several investigations assure that Christmas and New Years are two occasions in which flowers and plants are usually given. These three are the most appropriate, as they represent good omens and wishes for a successful year.
Flowers for Mother's Day
It is very difficult to choose something inappropriate this time. Also here are three ideas:
Flowers to express sympathy and support at a bad time

---
These types of flowers are different from those chosen at a funeral, as they are often sent to the home of grieving people. It is never too late to send these types of flowers.
If the deceased person or their relatives are Jewish, the flowers are not appropriate.
Flowers to thank

---
When you want to thank someone, choose a bouquet that represents their personality. It also helps to know some of her favorite tastes in flowers and plants.
As you may have appreciated, there are many options that will give you the right ideas for know what flowers to give according to the occasion and succeed in your intentions through flowers.
---
---
Nothing bad!
Did you find these tips and advice useful to know what flowers to give according to the occasion? Give us your Stars!